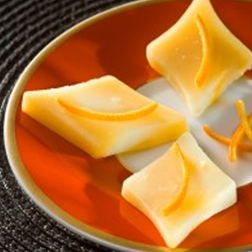 Ingredients
For sharing
1 orange
Salt and pepper
1 teaspoon of vinegar
Comté Cheese
Remove the zest from one orange using a peeler, making sure to avoid picking up any of the white pith which can be bitter.
Allow the zest to preserve by placing it in a mixture made up of 250ml of water, 2 teaspoons of salt and 1 teaspoon of vinegar and leave to rest until the liquid has become translucent. Once preserved, drain the zest and allow to dry, then cut into fine strips.
Finally place a thin sliver of orange zest onto a piece of Comté (select a milder Comté to ensure it isn't too overpowering). You will be pleasantly surprised at how just a small slice of orange zest enhances and compliments the flavour of the cheese. This makes a surprising, but ultimately delicious accompaniment to Comté cheese and would make a lovely dinner party canapé or light snack.